Quartl articles on BGCE
Togther with the Kompetenznetzwerk für Technisch-Wissenschaftliches Hoch- und Höchstleistungsrechnen in Bayern (KONWIHR), the BGCE issues the
, the quarterly online journal on computational engineering and high performance computing in Bavaria.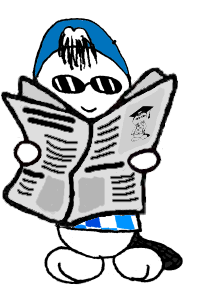 Articles concerning the BGCE
SIAM News 48 (6), July/August 2015:
BGCE Prize Finalists in the Spotlight at CSE15
SIAM News 44 (6), July/August 2011:
CSE 2011: Third BGCE Student Prize in CSE Awarded in Reno
SIAM News 42 (4), May 2009:
CSE 2009: Second BGCE Student Prize in CSE Awarded in Miami
SIAM News 40 (5), June 2007:
First BGCE Student Prize in CSE
Absolventenguide, Ausgabe WS 2005, Dec 2005:
Scan: Seite 12, Seite 13.
Abendzeitung München, Nov 23, 2004:


"Bavarian Graduate School of Computational Engineering (TU):
Der Studiengang für Superhirne: Ingenieure, Mathematiker und Informatiker, die Spaß daran finden mit Hochleistungsrechnern realitätsnahe Simulationen zu erstellen, sind hier richtig. [...]"

Süddeutsche Zeitung, Nov 23, 2004:
Studieren wie im Paradies
Süddeutsche Zeitung, Mar 16, 2004:
Die Guten ins Töpfchen
ForumMomentum Video on BGCE Students
ForumMomentum, our longtime partner for softskill courses at the BGCE Opening Weekends, provided nice videos on BGCE students in general for the Opening Weekend 2017 and for the BGCE 10th anniversary. Thanks Pit, Stefan and Michael for this very nice impression and "birthday present" :-).
Press Releases and Internal Articles on BGCE